Excellent results of the RIDA®GENE MRSA real-time PCR assay in the external quality assessment program of Instand e.V.
Repeatedly, the R-Biopharm AG participated successfully in the INSTAND external quality assessment (EQA) program for PCR-/NAT MRSA/cMRSA (No. 539) in November 2015.
100% concurrence for true positive and true negative samples
The sample panel of the MRSA/cMRSA proficiency test consisted of two MRSA-positive samples and one MSSA mecA-dropout variant, as well as one negative sample (E. coli K12). One positive MRSA sample contained the mecC resistance gene.
All samples (4/4) were detected by all users of the RIDA®GENE MRSA assay resulting in 100% concurrence for true positive and true negative samples of the panel.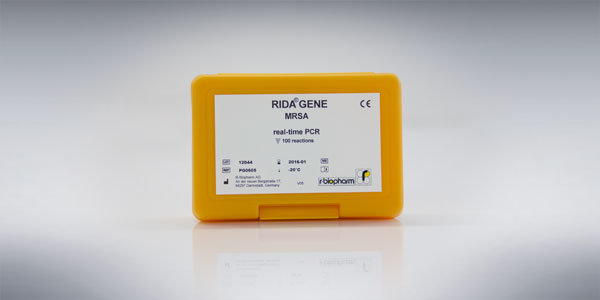 In contrast, of 298 participants using other test systems, only 50 – 83% identified the positive sample panel correctly. The results of the proficiency test are available on request from R-Biopharm AG.
The RIDA®GENE MRSA assay is listed by name since November 2014 with continuously increasing participant numbers. Click here to learn more about RIDA®GENE MRSA.
About MRSA
Methicillin-resistant Staphylococcus aureus (MRSA) is the leading cause of nosocomial infections worldwide (hospital-acquired MRSA also called HA-MRSA). Beside HA-MRSA infections also community-acquired MRSA infections (CA-MRSA) occur, which are acquired outside the hospital.
About RIDA®GENE
The R-Biopharm RIDA®GENE kits include all necessary components required for the specific detection of pathogens. An included extraction control ensures reliable results. All R-Biopharm RIDA®GENE kits are CE marked and are regularly evaluated by participation in the QCMD (Quality Control for Molecular Diagnostics) quality assessment.