Analysis of stool samples is a frequent task in clinical diagnostics. Heike Calado Duarte and Carlo Farah from our R&D team talk to us about the challenges involved and what you should pay attention to when using rapid tests.
Heike and Carlo, thank you very much for taking the time for this interview. Could you briefly introduce yourselves and your work?
Heike: Hello Wiebke, it's a pleasure for us to do so. My name is Heike Calado Duarte and with me is my team leader Carlo Farah. We both work in a team of eight developers for clinical rapid tests. Personally, I have been working at R-Biopharm for about ten years and since last year, I am responsible as the Group Leader Research & Development Lateral Flow Clinical Diagnostics. I started my professional career with a degree in biology.
Carlo: I have already been with R-Biopharm for more than ten years. As team leader, I lead a group of four developers working on the development of lateral flow rapid tests. In this team, we work primarily on clinical parameters for the diagnostics of pathogens that can be detected in the stool. I am a biotechnologist.
Please let us know: What is so special about the analysis of stool samples with a lateral flow rapid test?
Carlo: The challenge of stool samples is that the components of the samples can interfere with the test run. A stool sample has a very diverse and individual composition – it contains a lot of proteins and solids. This particularly high particle load for stool samples must be reduced in any case, as it can lead to invalid test runs due to clogging on the rapid test strip. At the same time, there is a high protein concentration in these samples, which can mask the analytes.
Heike: I agree with Carlo. The samples are so challenging because of their complexity or the differences in the possible samples. As different as the sample material can be, as challenging is the development. It can be very complex to select the most appropriate materials in order to eventually bring a very good assay to market.
What exactly can affect a lateral flow test run with stool samples?
Carlo: Stool samples are tested based on a suspected disease, so there are often microorganisms, occult blood, or drug residues present in the samples. These components can influence the test result. Thus, these are also taken into account during test development and choice of materials.
A diet very rich in pectin and fiber leads to a slimy consistency of the stool sample, which also complicates processing and makes homogeneous mixing of the sample even more important.
Heike: Depending on the patient's diet and health, the composition of the stool sample differs. There are influences from a wide variety of diets and nutrition, such as ketogenic or high-protein diets, from individual diseases and medical history, and from the intake of medications. We have to consider all these factors during development so that the test shows optimal analytical performance.
What else is there to consider when handling stool samples? 
Heike: The analytes to be detected as well as the sample, which consists mainly of biological material, have only a limited stability. Thus, not all antigens are detectable over a long period of time. Therefore, special attention should be paid to the transport and storage of the sample. Conditions such as temperature, time and handling should always be considered. In the worst case, if the sample is not handled and stored carefully, incorrect results may be obtained due to the condition of the sample.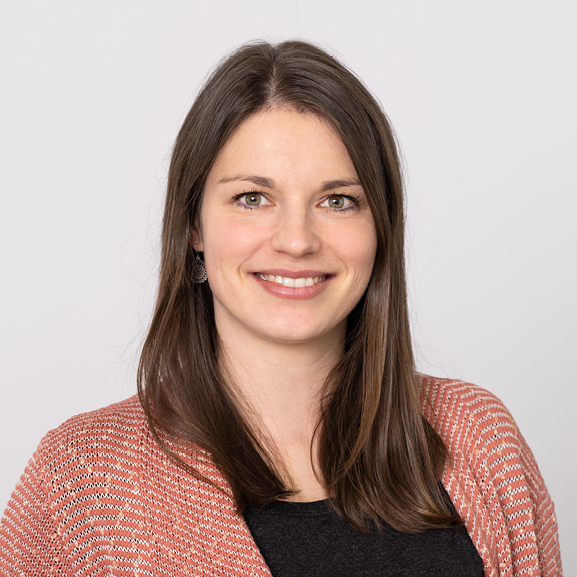 From your point of view, which samples are most problematic for a rapid lateral flow test?
Heike: Samples with very large particles and solids are generally the most problematic. Here, solid stool samples are meant. The reason for this is the high particle load. Due to this, the concentration of the antigen is much lower in relation to the remaining components, as there are very many elements in the sample that do not carry any antigen.
Carlo: As Heike says, it is the most difficult for us developers when the stool sample is solid. In most cases, however, there is a disease involved that leads to symptomatic watery to liquid diarrhea. Although there are exceptions, such as the detection of Helicobacter pylori, a bacterium that can trigger various symptoms in the stomach. It is usually detected from solid stool samples.
How should I prepare solid human stool samples in order to obtain reliable results?
Carlo: Solid stool samples must first be dissolved in the sample dilution buffer, as only liquid components can flow through the rapid test strip. In the case of solid stool samples, mixing of the sample must be carried out more intensively so that extraction of the antigens is possible. The sample preparation must therefore be as homogeneous as possible and it must be ensured that there are no large fragments or particles left.
What are your top tips and tricks for our customers?
Carlo: Make sure that the stool samples are well diluted in the sample dilution buffer.
Heike: Always take a brief look at the sample as well. Many things that cause problems in the application can refer to the individual sample. If something does not work, feel free to contact us as the manufacturer, as we are happy to help answer questions and deal with any concerns.
The interview was conducted by Wiebke Heine, Product Manager Infectious Diseases at R-Biopharm.