Tick season has started and the risk of dangerous infections with TBE/FSME is increasing. In the event of a suspected infection and to clarify immunization, antibody detection is the method of choice.
Tick-borne encephalitis (TBE) and Lyme disease (borreliosis) are considered to be the most frequent tick-borne infections. About 9.000 cases of TBE and 85.000 cases of Lyme disease are reported in Europe each year. The steady increase in the rate of infection and continuing spread of TBE made demand for a fast and reliable diagnosis of TBE necessary.
Diagnosis of TBE through antibody detection
A direct identification of the pathogen is limited to the viramic phase. However, in this phase of disease people being infected do not show specific clinical signs of an infection with TBEV. Therefore, the indirect detection of IgG and IgM antibodies by ELISA is seen as the method of choice for the diagnosis of TBE or the identification of immunization (e.g. RIDASCREEN® FSME/TBE IgG and IgM).
RIDASCREEN® FSME/TBE IgG and IgM are enzyme immunoassays for the quantitative determination of IgG or IgM antibodies against Tick-borne Encephalitis (TBE) virus in human serum.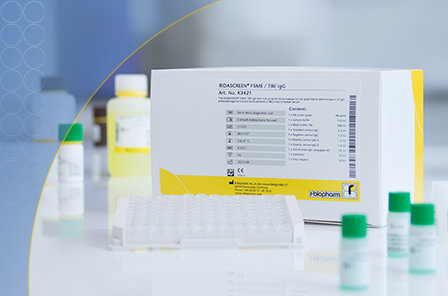 All features at one glance:
Very high sensitivity and specificity
Validated for automated systems
Fast results in 90 min
Additional quality controls ensure a high standard of quality assurance
Use of the vaccine antigen (inactivated whole virus-TBE, strain Neudörfl) of the vaccine FSME-Immun® (Pfizer)
New study confirms high reliability of RIDASCREEN® FSME/TBE tests
An external study recently compared two different commercially available ELISA tests for the detection of TBE antibodies. Performed in cooperation with ADMED Microbiology and the laboratory Spiez in Switzerland, the comparative study tested 277 IgG and 198 IgM samples. Results of the RIDASCREEN® FSME/TBE test were very pleasing (see Table 1).
| | IgG (N= 277) | IgM (N= 198) |
| --- | --- | --- |
| Positive accordance | 95,2 % | 95,9 % |
| Negative accordance | 93,9 % | 99,1 % |
Table 1: external Study results from Switzerland